Hi everyone! In this post, I am happy to share with some wonderdul Wednesday Quotes to help you keep motivated through the rest of the week.
I think that the most of us start looking forward to the weekend ahead when Wednesday comes, and this is something normal.
For me, I have developped the habit of feeling grateful and happy every day and not wait until it's the weekend to feel great.
I hope that this list of Wednesday Quotes will help you keep your motivation level high along the whole week in order to make the most of every day. I also hope that these quotes will be your source of inspiration to do your best effort through the rest of the week.
Inspirational Wednesday Quotes
1. "You don't have to see the whole staircase, just take the first step." ― Martin Luther King, Jr.
2. "One day you will wake up and there won't be any more time to do the things you've always wanted. Do it now." ― Paulo Coelho
3. "Our greatest weakness lies in giving up. The most certain way to succeed is always to try just one more time." ― Thomas Edison
4. "There will be obstacles. There will be doubters. There will be mistakes. But with hard work, there are no limits." ― Michael Phelps
5. Enjoy your day to the fullest! The day has just started, and there are a lot of things you can complete before the day ends. Happy Wednesday!
6. When you feel like quitting, think about why you started.
7. "Wednesdays are like Mondays in the middle of the week!" ― Lee Fox Williams
8. Wednesday: Halfway to the weekend! Enjoy your day!
9. "Obstacles can't stop you. Problems can't stop you. Most of all, other people can't stop you. Only you can stop you." ― Jeffrey Gitomer
10 of 80 Wednesday Quotes
10. What's the point of being alive if you don't at least try to do something remarkable.
11. "Choose a job you love, and you will never have to work a day in your life." ― Confucius
12. "When you live for a strong purpose, then hard work isn't an option. It's a necessity." ― Steve Pavlina
13. "Start where you are. Use what you have. Do what you can." ― Arthur Ashe
14. "Either you run the day or the day runs you." ― Jim Rohn
15. Happy Wednesday! Look at the bright side! At least it's not Monday morning!
16. "The future depends on what you do today." ― Mahatma Gandhi
17. "Don't count the days. Make the days count." ― Muhammad Ali
18. "The only thing that will make you happy is being happy with who you are." ― Goldie Hawn
19. "May your troubles be less and your blessings be more and nothing but happiness come through your door." ― Irish Blessing
20 of 80 Wednesday Quotes
20. "Today's accomplishments were yesterday's impossibilities." ― Robert H. Schuller
21. "Work hard, be kind and amazing things will happen." ― Conan O'Brien
22. "I'm a great believer in luck, and I find the harder I work the more I have of it." ― Thomas Jefferson
23. "It's hard to beat a person who never gives up." ― Babe Ruth
24. "Hit the reset button. Whatever happened yesterday, forget about it. Get a new perspective. Today is a new day. Start fresh, begin now." ― Germany Kent
25. "On Wednesday afternoons I could be practically anything." ― Kit Williams
26. One small positive thought in the morning can change your whole day.
27. Wednesday always reminds us that the weekend is almost upon us. Do not lose your focus, have patience and keep working towards your goals.
28. Good morning, I hope your day is as amazing as you are! Have a great Wednesday you deserve it!
29. Believe in yourself, push your limits and do whatever it takes to conquer your goals.
30 of 80 Motivational Quotes
30. "Make each day your masterpiece." ― John Wooden
31. "Success is the sum of small efforts, repeated day in and day out." ― Robert Collier
32. Most of the problems in life are because of two reasons, we act without thinking or we keep thinking without acting.
33. "Do the hard jobs first. The easy jobs will take care of themselves." ― Dale Carnegie
34. "Action is the foundational key to all success." ― Pablo Picasso
35. "All our dreams can come true, if we have the courage to pursue them." ― Walt Disney
36. When writing the story of your life, don't let anyone else hold the pen.
37. "Challenges are what make life interesting and overcoming them is what makes life meaningful." ― Joshua Marine
38. It's Wednesday! You are breathing, you are healthy, you are truly blessed, be grateful for today.
39. "Don't judge each day by the harvest you reap but by the seeds that you plant." ― Robert Louis Stevenson
40 of 80 Inspirational Quotes
40. "When we strive to become better than we are, everything around us becomes better too." ― Paulo Coelho
41. Wednesday is the day to recharge, refocus and renew your spirit.
42. The middle of the week is a great time to focus on gratitude and positivity.
43. Wednesday is a reminder that no matter how rough the beginning of the week was, the weekend is just around the corner.
44. On Wednesday, remember that every small step you take, brings you closer to your goal.
45. Wednesday is a day to focus on what you want in life, and take the steps necessary to achieve it.
46. On Wednesday, take a moment to be proud of all that you have accomplished so far this week.
47. Every day is a chance to change your life. Start with Wednesday.
48. Wednesday is a day to reflect on the week so far and set new intentions for the rest of it.
49. Wednesday is a great day to let go of stress and embrace happiness.
50 of 80 Quotes
50. Wednesday is a day to appreciate the little things in life and be thankful for them.
51. No matter how busy your week is, Wednesday is a day to focus on your well-being and self-care.
52. Wednesday is a day to believe in yourself and your abilities.
53. The middle of the week is a great time to focus on the present and enjoy the moment.
54. Wednesday is a day to be kind to yourself and others.
55. Take advantage of Wednesday to recharge and refresh yourself for the rest of the week.
56. On Wednesday, remember to celebrate all the small victories and milestones in life.
57. Wednesday is a day to let your positive energy shine and inspire others.
58. Take advantage of every Wednesday to get closer to your goals and make your dreams a reality.
59. Wednesday is a day to let go of negativity and embrace positivity.
60 of 80 Quotes
60. On Wednesday, take a step back and appreciate the beauty in the world around you.
61. Happy Wednesday! Let go of what didn't get done yesterday and focus on what can be accomplished today.
62. "Wednesday will either make you or break you. You are either on the upward trend or the downward slide to the end of the work week. Give it all you got this Wednesday!" ― Catherine Pulsifer
63. Wednesday is a blank canvas, waiting for you to paint with all of your dreams and aspirations.
64. It's never too late to start again, so make today the day. Have a great Wednesday!
65. Today is Wednesday! Make it a day of purpose and passion.
66. I really hope that today will be the turning point of your week, the one that moves you closer to your goals. Happy Wednesday!
67. "Wednesday is a day to help others celebrate life . You and only you are accountable for what you extend and give to others. One smile not only increases your value, but it gives joy to each person you meet." ― Byron Pulsifer
68. It's Wednesday! Be determined, stay focused, and see how far you can go!
69. Embrace the middle of the week with enthusiasm and a growth mindset. Happy Wednesday!
70 of 80 Motivational Quotes
70. Happy Wednesday All! Dream BIG, live courageously, communicate honestly, be mindful, act with kindness, and spread love today and every day!
71. I have a love-hate relationship with Wednesdays. I love that the weekend is coming, but I hate that I still have two more days of work.
72. Wednesdays are the perfect time to remind yourself that you are a work in progress.
73. I don't mind going to work on Wednesdays, but it feels like I'm running a marathon and the finish line is still miles away.
74. Wednesdays are a great time to step outside of your comfort zone and try something new.
75. "The best preparation for good work tomorrow is to do good work today." ― Elbert Hubbard
76. Wednesday is a day to motivate others, so they can finish the week strong.
77. Happy Wednesday! Take pride in how far you have come and have faith in how far you can go.
78. Wednesday is a great day to be awesome! Stay positive, work hard, and make it happen.
79. "Believe in yourself and all that you are. Know that there is something inside you that is greater than any obstacle." ― Christian D. Larson
80 of 80 Wednesday Quotes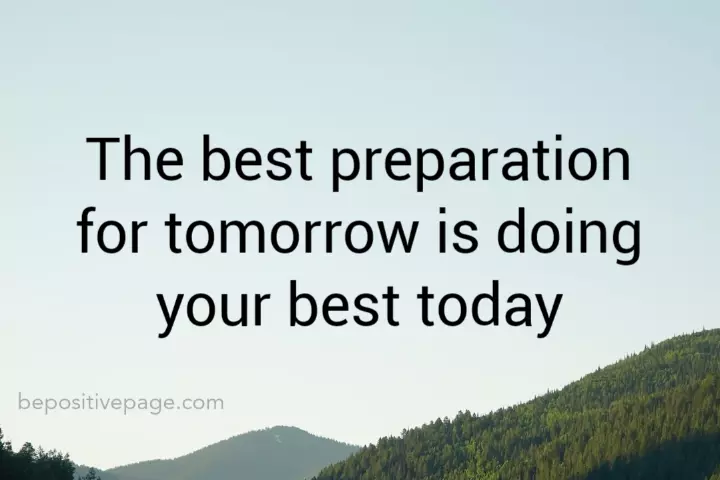 80. The best preparation for tomorrow is doing your best today
Wednesday Quotes are a powerful way to boost our motivation and energy at the midweek and they are also a great reminder for us that every day is an opportunity to get closer towards achieving our goals.
This wonderful list reflects a positive image on Wednesdays, which can in most times considered to be just one of the days in the middle of the week. These Wednesday quotes show us that Wednesdays can be a perfect day to be more motivated and inspired.
They also remind us to live the present moment and enjoy it to the fullest. Wednesdays can be a day to start fresh, look for new opportunities, and keep the hardwork up.
This list of Wednesday Quotes motivates us to put our focus on the positive side of life. It also teaches us how we can keep making progress and never give up on our dreams.
I hope that these wonderful quotes will inspire you to consider each day as a new opportunity to improve yourself and to be the best version og yourself.
Happy Wednesday!