Hello everyone! In this post, I am going to share with you 25 most inspirational Joyce Meyer Quotes.
Joyce Meyer is considered one of the most successful authors. She is also the president of Joyce Mayer Ministries. Joyce has a strong charisma in giving motivational speeches. She travels a lot around the world and shares with others beautiful encouraging and motivational words from the Bible. When meeting others, Joyce also talks about her own stroy and how she healed from a childhood abuse by simply forgiving.
In this list, I have carefully selected 25 most inspirational Joyce Meyer Quotes and put them together for you. I really hope that they will highly inspire you.
Related: 50 Most Inspirational Quotes.
25 Most Inspirational Joyce Meyer Quotes
1. "Choosing an attitude of faith will release peace out of your spirit and into your soul." – Joyce Meyer
2. "It's never too late for a new beginning in your life." – Joyce Meyer
3. "Don't give up…the finish line is closer than you think it is!" – Joyce Meyer
4. "You cannot have a positive life and a negative mind." – Joyce Meyer
5. "When you are in a storm, remember that the rough weather won't last forever." – Joyce Meyer
6. "The great thing about an attitude is that it's yours and you can change it." – Joyce Meyer
7. "Just because you can't see it yet, doesn't mean it's not on its way." – Joyce Meyer
8. "When you are tempted to give up, your breakthrough is probably just around the corner." – Joyce Meyer
9. "If we are not thinking, hoping or asking for anything, we are cheating ourselves. We need to think BIG thoughts, hope for BIG things, and ask for BIG things!" – Joyce Meyer
Related: Beautiful Leo Buscaglia Quotes.
10 of 25 Joyce Meyer Quotes
10. "The greatest prison people live in is the fear of what others think of them." – Joyce Meyer
11. "We can improve our relationships with others by leaps and bounds if we become encouragers instead of critics." – Joyce Meyer
12. "Don't wait for everything to be perfect before you decide to enjoy your life." – Joyce Meyer
13. "A positive attitude gives you power over your circumstances instead of your circumstances having power over you." – Joyce Meyer
14. "There's no happier person than a truly thankful, content person." – Joyce Meyer
15. "One mistake does not have to rule a person's entire life." – Joyce Meyer
16. "80% of people's problems are about how they feel about themselves." – Joyce Meyer
17. "Your attitude belongs to you and it's your choice if you want to have a good one." – Joyce Meyer
18. "You can suffer the pain of change or suffer remaining the way you are." – Joyce Meyer
19. "Don't be discouraged about how far you have to go to reach your goal, but instead be encouraged about how far you have come." – Joyce Meyer
Related: 50 Amazing Positive Quotes.
20 of 25 Joyce Meyer Quotes
20. "We need a backbone, not a wishbone." – Joyce Meyer
21. "Integrity means that you are the same in public as you are in private." – Joyce Meyer
22. "Nobody can be set free from a problem until they're willing to admit they have one." – Joyce Meyer
23. "Patience is not simply the ability to wait – it's how we behave while we're waiting." – Joyce Meyer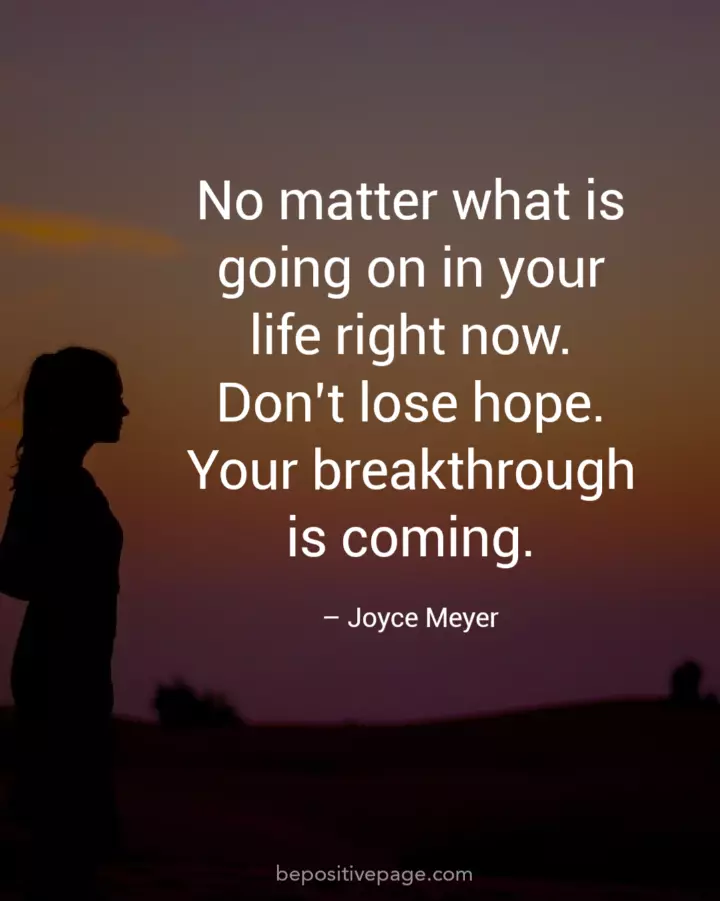 24. "No matter what is going on in your life right now. Don't lose hope. Your breakthrough is coming." – Joyce Meyer
25. "There are no drive-thru breakthroughs. Breakthroughs take time." – Joyce Meyer
Summary
• In this life, only hope and faith are what will make us feel peaceful and live a better life full of happy moments. We should always have an attitude of faith that our life will be better in the future.

• No matter how old we are, we can always have a new beginning to change our life positively. Every day is an opportunity to start and enjoy the journey of changing our situation into the best.

• Sometimes, we tend to give up after a long struggle and we don't know that we are closer of our destination than we think. So, we should never give up because we will achieve what we want sooner or later.

• No one with negative thinking can enjoy a positive life. It is something impossible. So, our mindset plays an important role in deciding the quality of life we have. So, choose always to have a positive mind and you will start seeing positive things in your life.

• We all face difficult situations from time to another. But this does not mean that these bad situations will last forever. No matter how hard the situation, it will change.
I hope that you have enjoyed reading this beautiful list of Joyce Meyer Quotes.