Sometimes, we can all be a little bit positive in order to boost our mood and feel better about ourselves. I have carefully selected this list of amazing positive quotes that I hope you will enjoy reading. Also, I hope that these quotes will make you feel more positivity in your life and inspire you to start thinking positively.
Please take some time and read these wonderful positive quotes. You may find a quote or more that might link to you in somehow. I completely know well that quotes are a great way to start feeling better as they have the power to motivate us, inspire us, and make us start believing in ourselves.
You may want to save this list of amazing positive quotes for the coming days when you feel like you need some positivity. So, it is a good idea to bookmark it!
Related: 30 Motivational Morning Quotes.
50 Positive Quotes That Will Brighten Your Day
1. "One small positive thought in the morning can change your whole day." — Zig Ziglar
2. "Believe you can and you're halfway there." — Theodore Roosevelt
3. "If you realized how powerful your thoughts are, you would never think a negative thought." — Peace Pilgrim
4. "You are never too old to set another goal or to dream a new dream." — C.S. Lewis
5. "Difficult roads often lead to beautiful destinations." — Zig ziglar
6. "Change your thoughts and you change your world." — Norman Vincent Peale
7. "The best way to predict the future is to create it." — Abraham Lincoln
8. "Things turn out best for the people who make the best of the way things turn out." — John Wooden
9. "People who are crazy enough to think they can change the world, are the ones who do." — Steve Jobs
Related: 40 Powerful Positive Mindset Quotes.
10 of 50 Positive Quotes
10. "Every moment is a fresh beginning." — T.S. Eliot
11. "One person can make a difference, and everyone should try." — John F. Kennedy
12. "Faith is having a positive attitude about what you can do and not worrying at all about what you can't do." — Joyce Meyer
13. "Don't be pushed around by the fears in your mind. Be led by the dreams in your heart." — Roy T. Bennett
14. "Don't judge each day by the harvest you reap but by the seeds that you plant." — Robert Louis Stevenson
15. "Problems are not stop signs, they are guidelines." — Robert Schuller
16. "There is always something to be grateful for." — Rhonda Bryne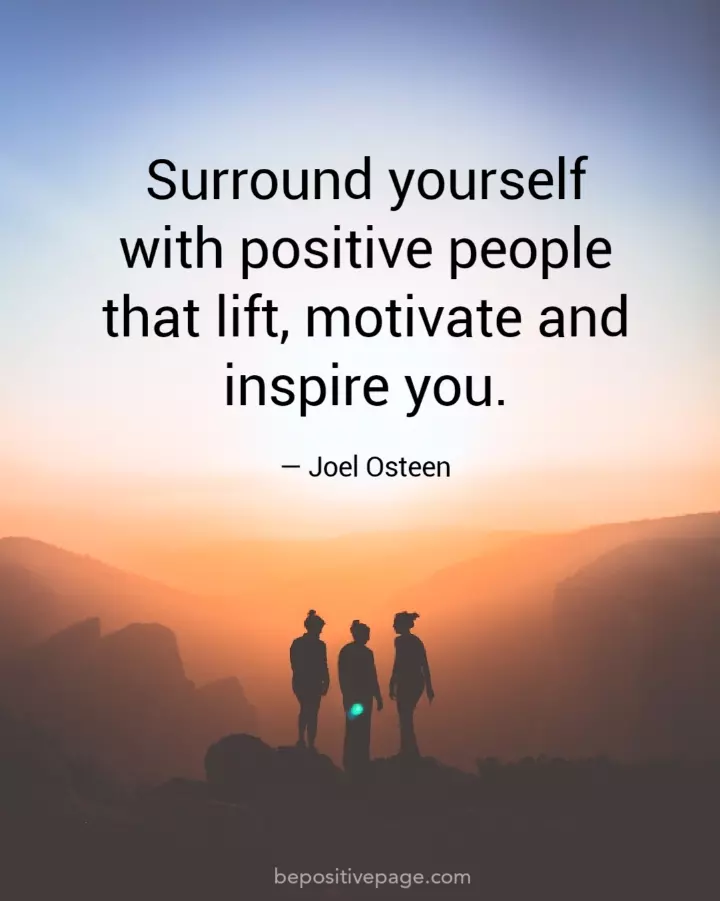 17. "Surround yourself with positive people that lift, motivate and inspire you." — Joel Osteen
18. "Your life does not get better by chance, it gets better by change." — Jim Rohn
19. "It does not matter how slowly you go, as long as you do not stop." — Confucius
Related: 50 Motivational Jim Rohn Quotes.
20 of 50 Positive Quotes
20. "Positive thinking must be followed by positive doing." — John C. Maxwell
21. "We would accomplish many more things if we did not think of them as impossible." — Vince Lombardi
22. "Stop being a prisoner of your past. Become the architect of your future." — Robin Sharma
23. "No act of kindness, no matter how small, is ever wasted." — Aesop
24. "The mind is everything. What you think you become." — Buddha
25. "The greatest glory in living lies not in never falling, but in rising every time we fall." — Nelson Mandela
26. "Learn how to be happy with what you have while you pursue all that you want." — Jim Rohn
27. "The future belongs to those who believe in the beauty of their dreams." — Eleanor Roosevelt
28. "I've had a lot of worries in my life, most of which never happened." — Mark Twain
29. "Try to be a rainbow in someone's cloud." — Maya Angelou
30 of 50 Positive Quotes
30. "Surround yourself with those who only lift you higher." — Oprah Winfrey
31. "Life becomes easier and more beautiful when we can see the good in other people." — Roy T. Bennett
32. "Why fit in when you were born to stand out?" — Dr. Seuss
33. "Formula for success: rise early, work hard, strike oil." — J. Paul Getty
34. "When you are grateful, fear disappears and abundance appears." — Tony Robbins
35. "The greatest gift you can ever give another person is your own happiness." — Esther Hicks
36. "Do not go where the path may lead, go instead where there is no path and leave a trail." — Ralph Waldo Emerson
37. "You are never too old to set another goal or dream a new dream." — C.S Lewis
38. "You never know how strong you are, until being strong is your only choice." — Bob Marley
39. "If you cannot do great things, do small things in a great way." — Napoleon Hill
Related: 50 Amazing Encouragement Quotes.
40 of 50 Positive Quotes
40. "Tough times never last, but tough people do." — Robert H. Schuller
41. "It's hard to beat a person who never gives up." — Babe Ruth
42. "First say to yourself what you would be; and then do what you have to do." — Epictetus
43. "Very little is needed to make a happy life; it is all within yourself, in your way of thinking." — Marcus Aurelius
44. "Our greatest weakness lies in giving up. The most certain way to succeed is always to try just one more time." — Thomas Edison
45. "Failure will never overtake me if my determination to succeed is strong enough." — Og Mandino
46. "What lies behind you and what lies in front of you pales in comparison to what lies inside of you." — Ralph Waldo Emerson
47. "Don't let the fear of losing be greater than the excitement of winning." — Robert Kiyosaki
48. "There's a direct correlation between positive energy and positive results." — Joe Rogan
49. "The less you respond to negative people, the more positive your life will become." — Paulo Coelho
50. "Life isn't about finding yourself. Life is about creating yourself." — George Bernard Shaw
Summary
• We should not underestimate the power of just a small positive thought when we start our day in the morning. It really can impact our whole day positively, and can make us have great day full of happy moments and achievements.

• If we want to succeed in this life, the best thing we can do is to believe in ourselves as it will make us come halfway in our journey and get closer to our destination.

• The type of thinking we have plays an important role in determining the quality of life we have. If we always have negative thoughts, we will never start living better. On the other hand, positive thinking will make us believe in ourselves and achieve our dreams and goals.

• In this life, it is never too late to have a new start and to set other goal or dream. As long as we still breathing, we can work on our dreams and achieve them.

• In this life, there is no easy way to become successful and achieve our goals. This means that only hard work and solving troubles what will make us reach a beautiful destination in the end.
I hope that you have liked reading this beautiful collection of Positive Quotes, and that you learned some great lessons on how you can feel more positive about your life.