Hello everyone! In this post, I am going to share with you 50 inspirational Time Quotes that I hope you will enjoy. I also hope that they will inspire you to know the value of every second and live your life to the fullest.
Time is an interesting topic. There are many advises about time that tell us to not waste it, to be more productive, to make the most of everyday, to live the present moment and to forget the past.
I have carefully chosen for you the best inspirational Time Quotes and put them together in this post. I hope that this list of wonderful quotes will inspire you to value more your time and to make you enjoy and be grateful for every moment you have in this life.
Related: 40 Wonderful Karma Quotes.
50 Inspirational Time Quotes
1. "Time is free, but it's priceless. You can't own it, but you can use it. You can't keep it, but you can spend it. Once you've lost it you can never get it back." – Harvey MacKay
2. "A man who dares to waste one hour of time has not discovered the value of life." – Charles Darwin
3. "Time and health are two precious assets that we don't recognize and appreciate until they have been depleted." – Denis Waitley
4. "Time is more value than money. You can get more money, but you cannot get more time." – Jim Rohn
5. "The greatest gift you can give someone is your time because when you give your time, you are giving a portion of your life that you will never get back." – Unknown
6. "Lost time is never found again." – Benjamin Franklin
7. "The trouble is, you think you have time." – Buddha
8. "If you spend too much time thinking about a thing, you'll never get it done." – Bruce Lee
9. "There's only one thing more precious than our time and that's who we spend it on." – Leo Christopher
10 of 50 Inspirational Time Quotes
10. "There is never enough time to do everything, but there is always enough time to do the most important thing." – Brian Tracy
11. "The time is always right to do what is right." – Dr. Martin Luther King, Jr.
12. "We all make time for what we feel is important in our lives." – Unknown
13. "Don't wait. The time will never be just right." – Mark Twain

14. "Either you run the day, or the day runs you." – Jim Rohn
15. "Always make time for things that make you feel happy to be alive." – Unknown
Related: 40 Inspirational Freedom Quotes.
16. "Time has a wonderful way of showing us what really matters." – Unknown
17. "The time is now. Stop hitting the snooze button on your life." – Mel Robbins
18. "Time is precious. Make sure you spend it with the right people." – Unknown
19. "The price of anything is the amount of life you exchange for it." – Henry David Thoreau
20 of 50 Time Quotes
20. "The two most powerful warriors are patience and time." – Leo Tolstoy
21. "Setting goals is the first step in turning the invisible into the visible." – Tony Robbins
22. "For every minute you are angry, you lose 60 seconds of happiness." – Unknown
23. "Your time is limited, so don't waste it living someone else's life." – Steve Jobs
24. "Be selective with who you invest your time, wasted time is worse than wasted money." – Unknown
25. "Lack of time is actually lack of priorities." – Tim Ferriss
26. "Time is the one thing we all have in common, but it is also the one thing that we all use differently." – Catherine Pulsifer
27. "Time isn't the main thing. It's the only thing." – Miles Davis
28. "The bad news is time flies. The good news is you're the pilot." – Michael Altshuler
29. "All great achievements require time." – Maya Angelou
30 of 50 Time Quotes
30. "The way we spend our time defines who we are." – Jonathan Estrin
31. "Time is what we want most, but what we use worst." – William Penn
32. "The time that leads to mastery is dependent on the intensity of our focus." – Robert Greene
33. "The best time to plant a tree was 20 years ago. The second best time is now." – Chinese Proverb
34. "Don't waste your time in anger, regrets, worries, and grudges. Life is too short to be unhappy." – Roy T. Bennett
35. "It's not that we have little time, but more that we waste a good deal of it." – Seneca
36. "The key is in not spending time, but in investing it." – Stephen R. Covey
37. "One step at a time is all it takes to get you there." – Emily Dickinson
38. "Whether it's the best of times or the worst of times, it's the only time we've got." – Art Buchwald
39. "I am not particularly interested in saving time; I prefer to enjoy it." – Eduardo Galeano
Related: 30 Positive Attitude Quotes.
40 of 50 Time Quotes
40. "Every day is a bank account, and time is our currency. No one is rich, no one is poor, we've got 24 hours each." – Unknown
41. "Lack of direction, not lack of time, is the problem. We all have twenty-four hour days." – Zig Ziglar
42. "Time is what keeps everything from happening at once." – Unknown
43. "How we spend our days, is, of course, how we spend our lives." – Annie Dillard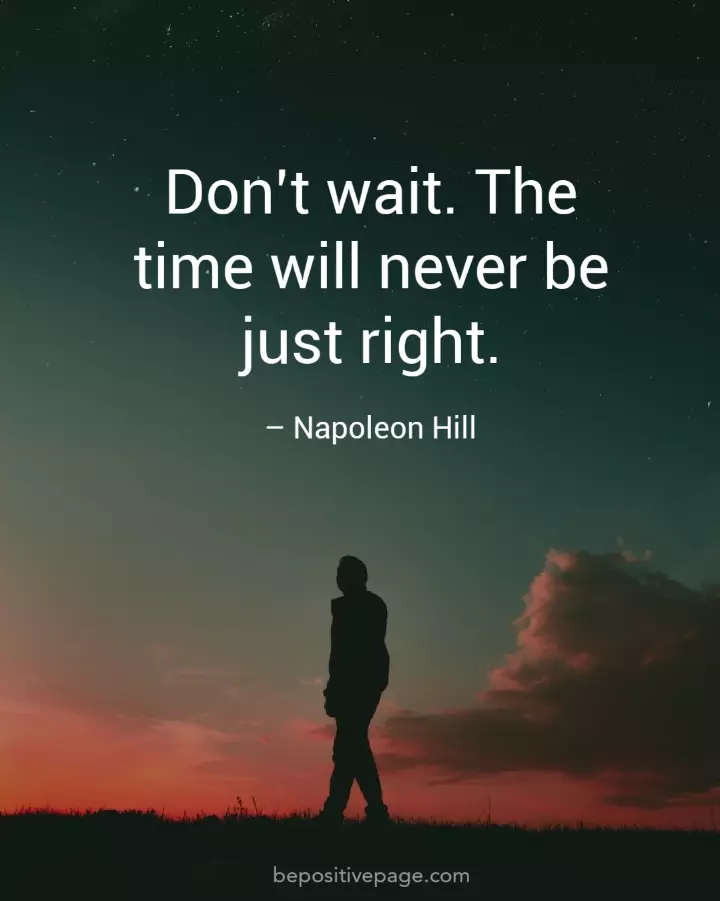 44. "Don't wait. The time will never be just right." – Napoleon Hill
45. "The perfect time to do what you love is now." – Neil Strauss
46. "Until you value yourself, you won't value your time. Until you value your time, you will not do anything with it." – M. Scott Peck
47. "There is time for work. And time for love. That leaves no other time." – Coco Chanel
48. "Time is not a measure, but a quality." – Paulo Coelho
49. "Someone is sitting in the shade today because someone planted a tree a long time ago." – Warren Buffett
50. "Every second is of infinite value." – Johann Wolfgang Von Goethe
Summary
• It is true that we don't buy time, but it is something very expensive and important. We cannot possess it, but we can make use of it to achieve what we want. Time is not something that we can get it back. We will only live once. So, make the most of every minute.

• Anyone who wastes even an hour of his time has not yet know what is the great value of life. When you appreciate the time you have, you give much importance to life.

• In life, there are two most important things that most of people don't recognize until they lose them. These two things are time and health. Once you miss one of them, you will know their great importance in your life.

• Time has a great value than money has. This is simply because we can collect more money, but we cannot have more time. Every minute that passes is irretrievable.

• Time is the precious thing that we can give to someone. This simply because every minute we spend it with someone is a part of our life, that is taken from us and we will not be able to get it back.
Related: Beautiful Helen Keller Quotes.
Conclusion
I really hope that this collection of Time Quotes have inspired you to appreciate the value of time in your life.
Time is something very important that many people believe they are able to get it back once it is wasted. The above Time Quotes are a good reminder to us that we should value and use time wisely.
These Time Quotes inspire us to enjoy and make the most of every moment of our life.