Hello everyone! In this post, I am going to share with you some Strength Quotes that will surely inspire and motivate you.
It is true that life might become though sometimes. This is why you should be strong to keep going on no matter what happens to you. I believe that these strength quotes will inspire you to have more confidence in yourself. They will reveal to how strong you really are.
These strength quotes will make you more motivated, and help you release the strength inside you when you the time and situation demand that.
This is a list of strength quotes that you might need it when you face hard times and when you are supposed to stay stronger, and have more self-confidence.
Related: 25 Motivational Jay Shetty Quotes.
60 Strength Quotes That will Motivate You
1. "Failure will never overtake me if my determination to succeed is strong enough." – Og Mandino
2. "You are braver than you believe, and stronger than you seem, and smarter than you think." – A. A. Milne
3. "The struggle you're in today is developing the strength you need for tomorrow." – Robert Tew
4. "Focus on your strengths, not your weaknesses. Focus on your character, not your reputation. Focus on your blessings, not your misfortunes." – Roy T. Bennett
5. "Worry does not empty tomorrow of its sorrow, it empties today of its strength." – Corrie Ten Boom
6. "Tough times never last, but tough people do." – Robert H. Schuller
7. "Strength doesn't come from what you can do. Strength comes from overcoming the things you thought you couldn't." – Unknown
8. "Good actions give strength to ourselves and inspire good actions in others." – Plato
9. "Do not pray for an easy life. Pray for the strength to endure a difficult one." – Bruce Lee
10 of 60 Strength Quotes
10. "With the new day comes new strength and new thoughts." – Eleanore Roosevelt
11. "Mastering others is strength, mastering yourself is true power." – Lao Tzu
Related: Amazing Inspirational Zig Ziglar Quotes.
12. "It is not the mountain we conquer but ourselves." – Edmund Hillary
13. "Life doesn't get easier or more forgiving, we get stronger and more resilient." – Steve Maraboli
14. "When everything seems to be going against you, remember that the airplane takes off against the wind, not with it." – Henry Ford
15. "The task ahead of you is never greater than the strength within you." – Unknown
16. "Hardship prepares ordinary people for an extraordinary destiny." – C.S. Lewis
17. "You are stronger than you think!" – Unknown
18. "Where there is no struggle, there is no strength." – Oprah Winfrey
19."It's not the strength of the body that counts, but the strength of the spirit." – J.R.R Tolkien
20 of 60 Strength Quotes
20. "You were given this life because you are strong enough to live it." – Robin Sharma
21. "You never know how strong you are, until being strong is your only choice." – Bob Marley
22. "The difference between a successful person and others is not a lack of strength, not a lack of knowledge, but rather a lack of will." – Vince Lombardi
23. "When something bad happens, you have three choices: You can either let it define you, let it destroy you or let it strengthen you." – Unknown
24. "Strength lies in differences, not in similarities." – Steven Covey
Related: 50 Beautiful Short Quotes.
25. "Strength does not come from winning. Your struggles develop your strengths. When you go through hardships and decide not to surrender, that is strength." – Arnold Schwarzenegger
26. "A hero is an ordinary individual who finds the strength to persevere and endure in spite of overwhelming obstacles." – Christopher Reeve
27. "Be brave. Take risks. Nothing can substitute experience." – Paulo Coelho
28. "Life is very interesting. In the end, some of your greatest pains, become your greatest strengths." – Drew Barrymore
29. "Be strong. You never know who you are inspiring." – Unknown
30 of 60 Strength Quotes
30. "Strength and growth come only through continuous effort and struggle." – Unknown
31. "Surprise yourself every day with your own strength." – Unknown
32. "I was always looking outside myself for strength and confidence, but it comes from within. It is there all the time." – Anna Freud
33. "It does not take much strength to do things, but it requires great strength to decide on what to do." – Elbert Hubbard
34. "What lies behind us and what lies before us are tiny matters compared to what lies within us." – Ralph Waldo Emerson
35. "Always remember, you have within you the strength, the patience, and the passion to reach for the stars to change the world." – Harriet Tubman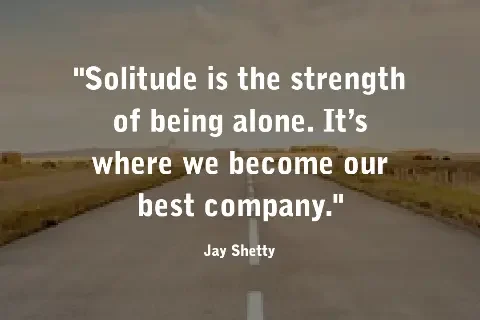 36. "Solitude is the strength of being alone. It's where we become our best company." – Jay Shetty
37. "You were given this life because you are strong enough to live it." – Unknown
38. "Our experiences, good and bad, make us who we are. By overcoming difficulties, we gain strength and maturity." – Angelina Jolie
39. "A calm mind brings inner strength and self-confidence." – Dalai Lama
Related: Wonderful Motivational Spring Quotes.
40 of 60 Strength Quotes
40. " The strongest people are not those who show strength in front of us, but those who win battles that we know nothing about." – Unknown
41. "I've never met a strong person with an easy past." – Unknown
42. "Sometimes you don't realize your own strength until you come face to face with your greatest weakness." – Susan Gale
43. "True strength is keeping everything together when everyone expects you to fall apart." – Unknown
44. "There are two ways of exerting one's strength: one is pushing down, the other is pulling up." – Booker T. Washington
45. "Physical strength is measured by what we carry. Inner strength is measured by what we can bear." – Unknown
46. "We all have an unsuspected reserve of strength inside that emerges when life puts us to the test." –  Isabel Allende
47. "You have power over your mind – not outside events. Realize this, and you will find strength." –  Marcus Aurelius
48. "Strength is not something you have, it's something you find." –  Emma Smith
49. "Someday your pain will become the source of your strength. Face it. Brave it. You will make it." –  Dodinsky
50 of 60 Strength Quotes
50. "Growth is painful. Change is painful. But nothing is as painful as staying stuck somewhere you don't belong." – Mandy Hale
51. "We do not have to become heroes overnight. Just a step at a time, meeting each thing that comes up, seeing it is not as dreadful as it appeared, discovering we have the strength to stare it down." – Eleanor Roosevelt
52. "Be strong, be fearless, be beautiful. And believe that anything is possible when you have the right people there to support you." – Misty Copeland
53. "We are stronger, gentler, more resilient, and more beautiful than any of us imagine." – Mark Nepo
54. "We don't even know how strong we are until we are forced to bring that hidden strength forward." – Isabel Allende
55. "You gain strength, courage, and confidence by every experience in which you really stop to look fear in the face. You are able to say to yourself, 'I lived through this horror. I can take the next thing that comes along.'" – Eleanor Roosevelt
56. "If you can't fly then run, if you can't run then walk, if you can't walk then crawl, but whatever you do you have to keep moving forward." – Martin Luther King Jr
57. "Life is not easy for any of us. But what of that? We must have perseverance and, above all, confidence in ourselves. We must believe we are gifted for something and that this thing must be attained." – Marie Curie
58. "Nothing is more beautiful than the smile that has struggled through the tears." – Demi Lovato
59. "Courage isn't having the strength to go on, it is going on when you don't have the strength." – Napoleon Bonaparte
60. "Anxiety does not empty tomorrow of its sorrows, but only empties today of its strength." – Charles Spurgeon
Related: 50 Motivational Jim Rohn Quotes.
Summary
• When we are stronger, we have more chances to succeed in our life. Only having a strong will and determination can make us overcome any life troubles and move on in our life to achieve our goals and dreams.

• We should never underestimate our capabilities because our mind can fool us and bring us negative thoughts about ourselves. In fact, we have the courage and strength that we need in this life. We should only believe in ourselves and have a positive mindset.

• There is no doubt that each one of us is struggling in this life to make his own dreams come true. It is that struggle that will make us stronger and experienced to deal with what is coming in the future.

• In this life, we should not focus on negative sides of our life, but rather on the positive aspects of our life such as our strength, the blessings we have, and the character we are developing.

• Worrying will not make our future brighter, but it can only make us weak in the present moment. So, it is better to focus on the present moment and make the most of it instead of thinking too much about the future.
Conclusion
I really hope that you have liked reading these Strength Quotes.
The list of Strength quotes I have shared with you come to make us always remember that we are really strong to deal with any life's troubles.
So, if you are not feeling as good as usual or having a trouble, remember these strength quotes and allow them to empower you with enough motivation to keep moving on in your life.
So, if you are ever feeling down or facing a difficult task, remember the words of these strength quotes and let them inspire you to keep pushing forward.