Leo Buscaglia was born in the United States of America. He was a writer, motivational speaker and worked as a professor of Special Education at the University of Southern California. Leo Buscaglia Quotes were very famous.
He was giving lectures through televisions that were very famous at that time in 1980s. All his books was considering national Best Sellers through the help of his national appear, and also his wonderful storytelling style.
Leo Buscaglia was very attached to express the topics of love and human relations. Giving much attention to the importance of positive human acts, especially hugs. His relationship with hugging became a unique characteristic at lectures, where a lot of people would be patient to wait until he finishes a presentation just to hug him. It was like a habit for Leo Buscaglia to stay after finishing a talk just to sign books and hugging people with kindness and love.
Leo Buscaglia knew how to draw people in, in a wonderful way, and he was also considered as the master of motivational speaking. Here are bellow some of his beautiful quotes. I hope you they will inspire you and make you feel happy.
Beautiful Leo Buscaglia Quotes About Love And Life:
1. "Only when we give joyfully, without hesitation or thought of gain, can we truly know what love means." – Leo Buscaglia
2. "Love is life. And if you miss love, you miss life." – Leo Buscaglia
3. "Life is a paradise for those who love many things with a passion." – Leo Buscaglia
4. "The person who risks nothing, does nothing, has nothing, is nothing, and becomes nothing. He may avoid suffering and sorrow, but he simply cannot learn and feel and change and grow and love and live." – Leo Buscaglia
5 of 30 Leo Buscaglia Quotes:
"Love is always open arms. If you close your arms about love you will find that you are left holding only yourself." – Leo Buscaglia
6. "Happiness and love are just a choice away." – Leo Buscaglia
7. "Find the person who will love you because of your differences and not in spite of them and you have found a lover for life." – Leo Buscaglia
8. "Love is always bestowed as a gift – freely, willingly and without expectation." – Leo Buscaglia
9. "Your talent is God's gift to you. What you do with it is your gift back to God." – Leo Buscaglia
10. "Don't smother each other. No one can grow in the shade." – Leo Buscaglia
11. "Risks must be taken because the greatest hazard in life is to risk nothing." – Leo Buscaglia
12. "Change. It has the power to uplift, to heal, to stimulate, surprise, open new doors, bring fresh experience and create excitement in life." – Leo Buscaglia
13. "Death is a challenge. It tells us not to waste time. It tells us to tell each other right now that we love each other." – Leo Buscaglia
14. "I believe that you control your destiny, that you can be what you want to be." – Leo Buscaglia
15 of 30 Quotes:
15. "Love yourself, accept yourself, forgive yourself, and be good to yourself because without you the rest of us are without a source of many wonderful things." – Leo Buscaglia
16. "Everybody needs a hug. It changes your metabolism." – Leo Buscaglia
17. "Risks must be taken because the greatest hazard in life is to risk nothing." – Leo Buscaglia
18. "Choose the way of life. Choose the way of love. Choose the way of caring. Choose the way of goodness. It's up to you. It's your choice." – Leo Buscaglia
19. "The hardest battle you're ever going to fight is the battle to be just you." – Leo Buscaglia
20. "Value yourself. The only people who appreciate a doormat are people with dirty shoes." – Leo Buscaglia
21. "The easiest thing to be in the world is you. The most difficult thing to be is what other people want you to be. Don't let them put you in that position." – Leo Buscaglia
22. "What we call the secret of happiness is no more a secret than our willingness to choose life." – Leo Buscaglia
23. "Too often we underestimate the power of a touch, a smile, a kind word, a listening ear, an honest compliment, or the smallest act of caring, all of which have the potential to turn a life around." – Leo Buscaglia
24. "Never idealize others. They will never live up to your expectations." – Leo Buscaglia
25 of 30 Quotes:
"Life is uncharted territory. It reveals its story one moment at a time." – Leo Buscaglia
26. "If you don't like the scene you're in, if you're unhappy, if you're lonely, if you don't feel that things are happening, change your scene. Paint a new backdrop." – Leo Buscaglia
27. "I still get wildly enthusiastic about little things… I play with leaves. I skip down the street and run against the wind." – Leo Buscaglia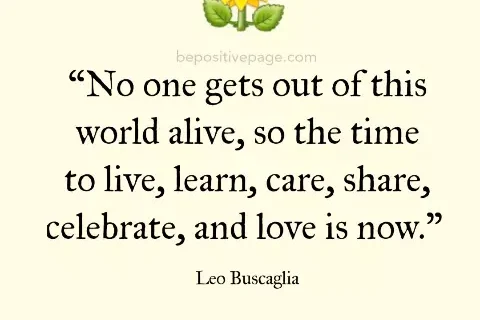 28. "No one gets out of this world alive, so the time to live, learn, care, share, celebrate, and love is now." – Leo Buscaglia
29. "There are scores of people waiting for someone just like us to come along; people who will appreciate our compassion, our encouragement, who will need our unique talents. Someone who will live a happier life merely because we took the time to share what we had to give." – Leo Buscaglia
30. "One does not fall "in" or "out" of love. One grows in love." – Leo Buscaglia
Summary
Leo Buscaglia says that we have to give unconditionally without waiting something in return. Only that what make us share love among people.
Leo Buscaglia shows the importance of love, as it is the real meaning of life. We are invited to share love and receive it to live a real meaningful life.
Having passion in the things we do plays an important role is turning our life into paradise. We cannot live happily if we are doing something that we have no interest in it.
Leo Buscaglia says that our comfort zone is our worst enemy. It will prevent us from growing and learning new skills. As a result, we will stay forever suffering from living a life without any meaning.
According Leo Buscaglia, staying alone and not letting anyone enter our life, will make us miss the real meaning of love, and we will end up in company with just ourselves.
I really hope that these beautiful Leo Buscaglia quotes made you enjoy your time while you were reading them.